What Makes This Online Hifz classes Course Unique?
What makes our Online Hifz Classes course unique is that it employs common but delicate tactics that are implemented in a highly careful and planned manner to allow you to get the most out of our online Hifz sessions.
What sets us apart from the tens of thousands of Quran memorization websites available today?
                                                          Let's jump right in.
1- Well-Structured Hifz Plans In Our Online Hifz Program!
Despite the fact that our teaching plan is dependent on students' talents and mental levels, the average time to memorize the entire Quran online is between 10 and 37 months.
Still, the Hifz student has the last say in how much he does per day, and the schedule is tailored accordingly. For example, our Online Hifz Classes strategies are personalized based on your capacity to memorize Surah Al-Baqarah in 2 to 5 months.
Organized And Disciplined Classes
Students receive a link to the calendars via email from their teachers. And it works wonders in terms of keeping them organized and ensuring that Hifz students arrive prepared for each Online Hifz Classes.
You may have seen something! There is no one-size-fits-all rule that all pupils must follow. It is, without a doubt, a bizarre situation. After determining each student's Quran Hifz level and competence, we create a customized Hifz strategy for him.
We take into account the student's schedules to ensure that they don't have too much Hifz to complete at home! Because over-saturation may cause kids to become bored halfway through.
2- Highly Qualified Online Hifz Classes Teachers:
The Online Hifz Classes course has been designed to be user-friendly and motivational. Prior to beginning formal sessions, the online Hifz Tutor assesses each student's mental level of Memorization ability.
                            Yes, but what makes you think we're telling the truth? By taking advantage of free trial lessons with two different Quran memorization instructors.
Hifz Teachers from major Islamic colleges who are Isaiah certified and experienced:
Ijazah is a Muslim term that refers to a ritual of circumcision 5+ years of experience as a certified instructor The Quran Memorization Instructors have earned their degrees from Al-Azhar University, the world's most prestigious Islamic university.
They're all Hafiz, and they've memorized the Quran since they were children.
They assisted a large number of non-Arab pupils in memorizing a significant amount of the whole Quran online.
After a rigorous selection process, the Hifz teachers have been approved to teach our Online Hifz Classes Course pupils.
              It's not just a straightforward hiring procedure!
They are, however, qualified to instruct you after being chosen from a large pool of applicants. Not only are they prepared to satisfy your high standards, but they are also trained to fulfill the necessities of the present period.
The prestige of memorizing the Quran through our structured Online Hifz Classes training in a very informed and committed Hifz setting is unavoidable here.
                                     Now There Are No More Language Barriers!
Fluent in English: For non-regional students, this is the ideal thing because it eliminates the language barrier and allows you to focus more on the Online Hifz Classes and teacher.
How Do Our Hifz Teachers Emphasize The Values Of Their Students?
Our Online Hifz Tutors are not only kind to students, but they also remain in touch with their parents to inform them of their child's development.
After each Quran Hifz class, students will be given a daily score out of ten as a form of encouragement and a tool to track their progress.
Students will understand the Hifz lesson better if you are supportive and think at their level. In a beautiful tone, they correct your pronunciation and recitation.
3- A weekly report of your online Hifz classes: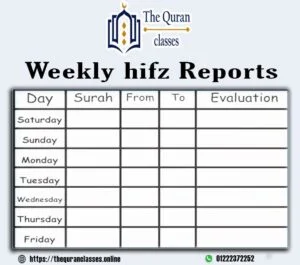 Most parents appreciate receiving regular updates on their child's Quran Hifz development in our Online Hifz Classes course. We email students and their parents weekly Quran memorization reports.
Interactive Sessions And Time To Time Feedback
As they get to know their child better, our Professional Hifz Teachers create contact with them and provide first feedback by establishing a particular mechanism for informing them about their child's progress.
You can also evaluate yourself with a weekly report. What are your thoughts on the subject? Hifz Teachers work with pupils one-on-one to help them realize which areas require more focus and which areas they need to improve.
4- Quran Hifz online anytime 24/7: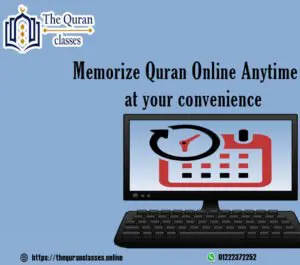 Have you had a hectic schedule?
Or perhaps you have an emergency and will be unable to attend the session at the scheduled time?
Now you don't have to be concerned! All you have to do is enroll in our Online Hifz Classes lessons and memorize the Quran whenever you want!
Students at Hifz have complete autonomy about how, what, when, and where they learn.
Schedule Your Classes With Google Calendar
Our Online Quran Hafiz creates and shares a class calendar for the Online Hifz Classes program using Google Calendar. This keeps our students up to date on the class, its duration, and key dates.
You will have the opportunity to study and evaluate the Hifz course materials at your leisure. You can also continue to care for your family and work full-time while pursuing an Islamic education.
5- The smart strategy for our Quran Hifz classes!
              What are our effective tactics for Quran Memorization Classes Online?
Using the Same Translation of the Qur'an (Mushaf)

Adherence to a daily Quran Memorization Limit

Recitation and revision on a regular basis

Reciting in a Melodic Tone is a skill that may be learned.

There are plenty more, and you'll learn about them as you practice with our Online Online Hifz Classes.
Take A Look At Our Adult Quran Classes
However, revision has always been the primary approach we have used to ensure long-term remembrance of the Quran. To be honest, revision isn't the same as repetition; it's the same as mastering. We took in mind this key point when designing Hifz revision plans for pupils.
Read before class

Pre-hand read the lesson that will be learned in class. This way, at the very least, you'll know what you're aiming for.

Listen, Read, and Hifz during Class

In our Online Hifz Classes Classes, learn the lesson with accurate pronunciation and listening methods.

Recite it three times in front of the Tutor, and the Tutor will keep note of your errors.

Make a habit of memorizing the Quran online for at least 1-2 hours every day.

Daily Revision

In class, the next day, reciting the Hifz lesson.

After the Fajr Bulk Revision, there was a revision in daily prayer.

The Hifz Course Teacher assists you in recording and correcting your mistakes.

Weekly revision

Each week, undertake a mass revision of what you memorized on one day of the week.

Monthly Revision

Revision Every month, set aside a few days to go over what you've memorized from the Quran in detail.

Read aloud, pointing and peering inside the lines, before reading from memory.
6- Enhancing your Quran Hifz with exams and competitions:
The Quran Classes keeps track of its students' every move by:
Quizzes every month

Scores on the quiz

Percentages of mastery-based on objectives

Homework becomes a unit test.

Checking proficiency levels

Exam-related behavior.
7- Quran memorization reward systems to motivate students:
Our experienced Hifz management team has created a highly lucrative and inspiring student reward system:
Putting the work of the pupils on display

Assigning them to leadership positions as a reward

Providing top badges as a reward

Allowing students to earn digital reward tags by doing short quizzes.

Stickers that are digital

Assisting with the creation of a virtual classroom playlist

If they agree, give them a social media shoutout.

Providing them with thank-you e-books

Sending them thank-you SMS with gifs and motivational messages.
8- 24/7 Helping desk to help you memorize Quran faster!
The Quran Classes Helpline is available 24 hours a day, 7 days a week to answer any questions you might have about the Online Hifz Classes program.
Get In Touch With Us With One Click
Get quick and polite technical assistance whenever and wherever you want it—even on holidays—via phone, live chat, online form, email, or drop-in.
Quick Alerts and Notifications
You may also see if an outage is affecting you by checking our Alerts & Notifications.
Our students are our top concern, therefore we're committed to assisting you in every way possible, whether it's with your studies or with technical issues.
Whatever method you use to contact us, we'll make a case for your request and keep you updated on its progress. Once your case is over, we'll send you a survey for comments.
9- Online Quran Hifz classes on a low budget!
You are mistaken if you believe you cannot afford to memorize the Quran online.
                                                        We've got your back!
On a shoestring budget, you can take these High-Quality Online Quran Hifz lessons.
 Not only that, but if three family members participate in our online Hifz program, the second and third students receive a discount. And as more people join, the discount gets bigger.
Not only that but compared to other Islamic Education platforms, we also have a very low price. You can practically compare our prices to those of others and be astounded at the difference. We offer Online Hifz Classes in both high quality and a budget-friendly price.
10- Hifz Quran online with rare technology tricks:
The following are the latest technology approaches employed in our Quran memorizing website to create an Online Quran Hafiz who is proficient in both Hifz and technology.
Recorded lectures
Get Recorded Lectures for Free! Videos For Hifz Course Teaching: Get Recorded Lectures for Free!

We all know that watching videos rather than reading helps us recall crucial information for longer. Our Hifz instructors videotape digital lectures with whiteboards, classroom exercises, and peer presentations.

Not only that but after the live Hifz Lectures, they are also given access to recorded lecture videos on the spot. They immediately share them with the rest of the class via Google Classroom, G Drive, or YouTube.
Quizzes
The best interactive Quran memorization quizzes to help you remember the Surah and verse names.
3R Methods (Recognition, Recall, and Relearning)
We employ the Recognition, Recall, and Relearning method, which involves inserting regular Quran Memorization quizzes into the timetable to remind you to retrieve the knowledge from your memory.
Constant Guideline
We assist you in recalling the names of the Surahs or the Verses that you attentively memorized in the previous lesson.
Because the errors students make in the tests are followed by explanations of the correct answers, it aids in the rebuilding and memory of the surah and verses' essential concepts and names.
Learning With Fun
Game-based learning in Online Quran Hifz is a lot of fun!

We devised innovative learning activities to allow students to have fun with Online Quran Hifz since they enjoy a friendly rivalry with their classmates.

We make enjoyable review games that are fresh and entertaining. Especially the little ones! With such enjoyable activities, they gain a deeper understanding of the Hifz lesson.
Presentations
A lavish presentation theme that helps you focus!

Our experts create the most up-to-date and appealing slides, as well as infographics, to assist students in smart learning. We also provide design templates and digital notebooks that might assist you with the passive study.

It's not a problem if you get bored with a study topic. We put our pupils first, thus we switch up the themes merely to keep them interested!

Presentations in the form of a slideshow with multimedia

We no longer believe in text-only presentations. The students must be captivated by the vivid additions in multimedia presentations, which we gladly provide.
                   Here are some examples of multimedia elements you might see in your classroom:
Imaginative Images

Several short video clips

Graphs \GIFs \animations

Tracks of Music ( Surah Recitation styles)
Podcasts Can Help You Learn More About Audio!
As is well known, auditory learning is a critical component of long-term knowledge retention.

With the greatest Podcasts, we can help you improve your Quran learning abilities.

Our Online Hifz Teachers either propose or encourage students to create their own podcasts. In this manner, people's curiosity about new things and Quran memorizing lessons are piqued, and something is created.
11- Two Free trial classes with 2 different online Hifz tutors:
With two or more trial lessons, you can evaluate our Quran memorizing course for free.
With two separate Online Hifz teachers, we let you view the inside of our learning environment.
As a result, you'll have a better chance of finding one that meets your preferences. Despite the fact that all of our Online Hifz trainers are quite skilled, we still allow you to try them out for free!
How Do I Use The Quran Classes To Hifz Quran Online?
1- Complete our Free Trial form to receive a free trial lesson to ensure your complete happiness.
2- We will contact you as soon as possible and provide you with the teacher's Zoom link ( After you download Zoom ).
3- Provide us with thorough feedback on your free online Hifz trial class.
4- Select one of our 12 pricing packages and join as soon as possible in our Quran Hifz sessions.
Bonus tip: The effective tricks to memorize Quran online
We've discovered these unique tips to help you properly memorize the Quran online.
Have a sincere desire to memorize the Quran.
Make a Quran Online Hifz Classes course plan and set a goal for yourself.
Select an appropriate time to memorize the Quran online.
As you progress, improve your memory skills.
Obtain the services of a qualified online Hifz tutor.
Consistently practice by keeping the most recent lesson taught near at hand.
Early in the morning is the best time to learn because your brain is fresh and you will be able to remember more readily.
Repeat the verse/page as many times as necessary until it becomes ingrained in your mind.
Listen to your favorite Qari recite the Surah you were learning.
Recite to others and in prayers what you've memorized.
Teach others how to memorize the Quran.
Now, the question is, where can you get the Best Online Hifz Tutor with all of the above features?
Enrolling in a Quran memorizing course is a great way to start!
Conclusion
                                                 Narrated Aisha (RA):
The Prophet (ﷺ) said, "Such a person as recites the Quran and masters it by heart, will be with the noble righteous scribes (in Heaven). And such a person exerts himself to learn the Quran by heart, and recites it with great difficulty, will have a double reward."
Sahih al-Bukhari 4937
There's no need to wait; all you have to do is sign up for a Quran Online Hifz Classes course Website that you like. All of our Quran Online Hifz Classes Course's open policies have been disclosed to you.
Please feel free to look around!
Read More: