If you are a Muslim living in a non-Arabic-speaking country and want to learn Quran for kids, then the ideal option is taking online Quran classes with an online Quran teacher for kids; It's very challenging to find a qualified Quran tutor in a country where the majority are not Muslims.
It's very important for Muslim parents to teach their kids the Quran from an early age so they grow up on the teachings of Islam & the Quran. The prophet Muhammad (PBUH) said:
The best among you (Muslims) are those who learn the Qur'an and teach it.

Hadith [Sahih al-Bukhari 5027]
However, non-Arabic-speaking kids will find learning Quran more difficult as compared to kids who speak Arabic as their native language.
Traditional schools have instructors that direct kids on how to appropriately pronounce the words of a particular language. Through attending regular classes, kids become able to speak this language fluently.
Learning Quran can be accomplished if a comparable pattern is followed. Some moms and dads grumble that with their kids spending half of their day at school, so it can become rather difficult to go to Quran classes at a Quran school. This is not a problem anymore!
Nowadays, there are a number of quality online Quran institutes which provide online Quran teacher for kids. So the question that we need to answer is "How To Choose Best Online Quran Teacher For Kids?"
Attempting to help Muslims parents across the globe to choose the best online Quran tutor for kids, The Quran Classes Online Institute have made the following checklist:
1. Find a Reputable Online Quran Institute
It's highly preferable to have your kids take their online Quran classes at a reputable online Quran institute instead of a freelance teacher who is not related to any accredited organization. This will guarantee the Quranic education quality, the kid's safety, and the teacher's commitment.
One of the leading online Quran institutes on the internet is "The Quran Classes". It's a professional online platform to learn Quran, Arabic Language, and Islamic Studies for kids & adults through one-to-one online sessions provided by native Arab male & female tutors.
The Quran Classes provides many benefits to online Quran learning for kids:
Flexible Timing Schedule – our classes & teachers are available 24/7 and you can choose times suit you.
Free Trial Classes – we offer 2 free trial classes for all courses to evaluate our tutors and courses.
Female Tutors Available – we have professional and experienced female tutors to teach your kids.
1-on-1 Online Classes – we provide one-on-one online learning classes to learn more comfortably.
Special offers & discounts – we provide special tuition fees for families & groups of students.
2. Dedicated Online Quran for Kids Course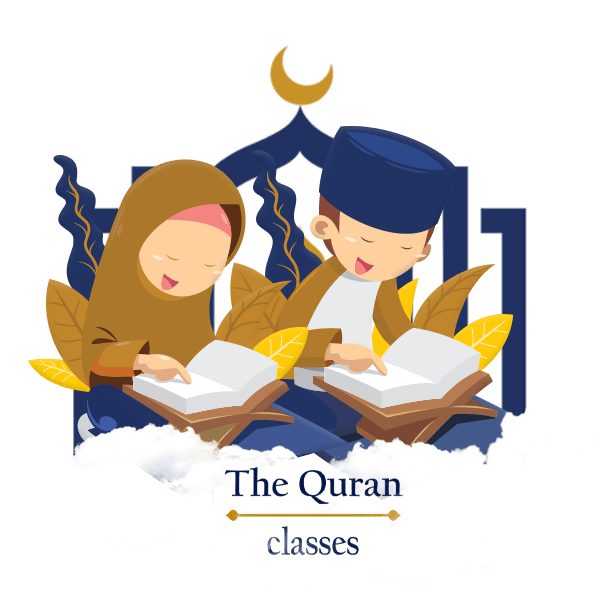 The best online Quran teacher for kids, whether male or female, should be assigned to a dedicated online Quran for children course. He/She should have experience teaching Quran to kids in particular; The kids need special treatment to make them love the Quran.
We, at "The Quran Classes Online Institute", offer the best online Quran classes for kids.
We have assembled the most talented online Quran teachers a for your kids. Our male & female tutors are ready to take your children from no prior knowledge of the Quran to excellence in Quran recitation with Tajweed and/or Quran memorization.
The assigned Quran tutors to this course have long experience in teaching Quran & Arabic to kids online and have special teaching methods that simplify the learning process and make it interesting.
3. Check Kids Safety Policy
Nowadays, kids' safety is the topmost concern. For this reason, parents continuously seek a reliable online Quran learning service.
At The Quran Classes, your kids can learn Quran online safely 100% with the following features:
Virus/malware-free service.
Online Quran teaching backed by expert Quran tutors for kids.
Reliable and secure interaction between tutor and student.
Trustable, qualified, and decent teachers.
Healthy and quick learning for your child.
No ethical threats to your child.
4. Choose A Native Arab Online Quran Teacher
The Holy Quran has been revealed in Arabic so it must be learned in its original language. In this regards, Allah (SWT) said:
Indeed, We have sent it down as an Arabic Quran, so that you may understand.

The Quran [12:2]
Learning Quranic Arabic is not an easy task if Arabic is not your mother tongue; Arabic language has many grammatical and pronunciation rules. A simple alteration in pronunciation could lead to a complete change in Quranic word/verse which is considered a Sin.
Accordingly, native Arab online Quran teacher for kids is a MUST to teach your kids the Quran correctly. Otherwise, your kids may learn to read Quran wrongfully. And it will be very hard to correct their recitation later.